I have a habit of cutting off two 2-1/2″ strips of each fabric as it arrives, so that I don't have the fear-of-cutting-into-it Blank Canvas Syndrome when it comes to treasured fabrics. But this creates another problem… What do I do with all of those fabric strips?
I decided to play. I cut each one into about 10″ sections, and sewed strips together randomly.
Pressing to one side, I used a straight edge to trim about half of each strip off.

  
Then I had lots of strips and small pieces. I sewed more strips together randomly.

  
When I ran out of sewn pairs, I split the remaining stack of pieces and sewed those together randomly.

Eventually, I had two 7-foot strata of 10″ strip-sets. And no plan. Hm….
I decided to cut 1-1/2″ wide strips of the strata and sew them between half-square triangles of my low volume neutral fabrics.

Since I have the attention span of a guppy, then I decided to make half-square triangles of the strata, and attach those to the HST of neutrals.
Kinda fun to play with.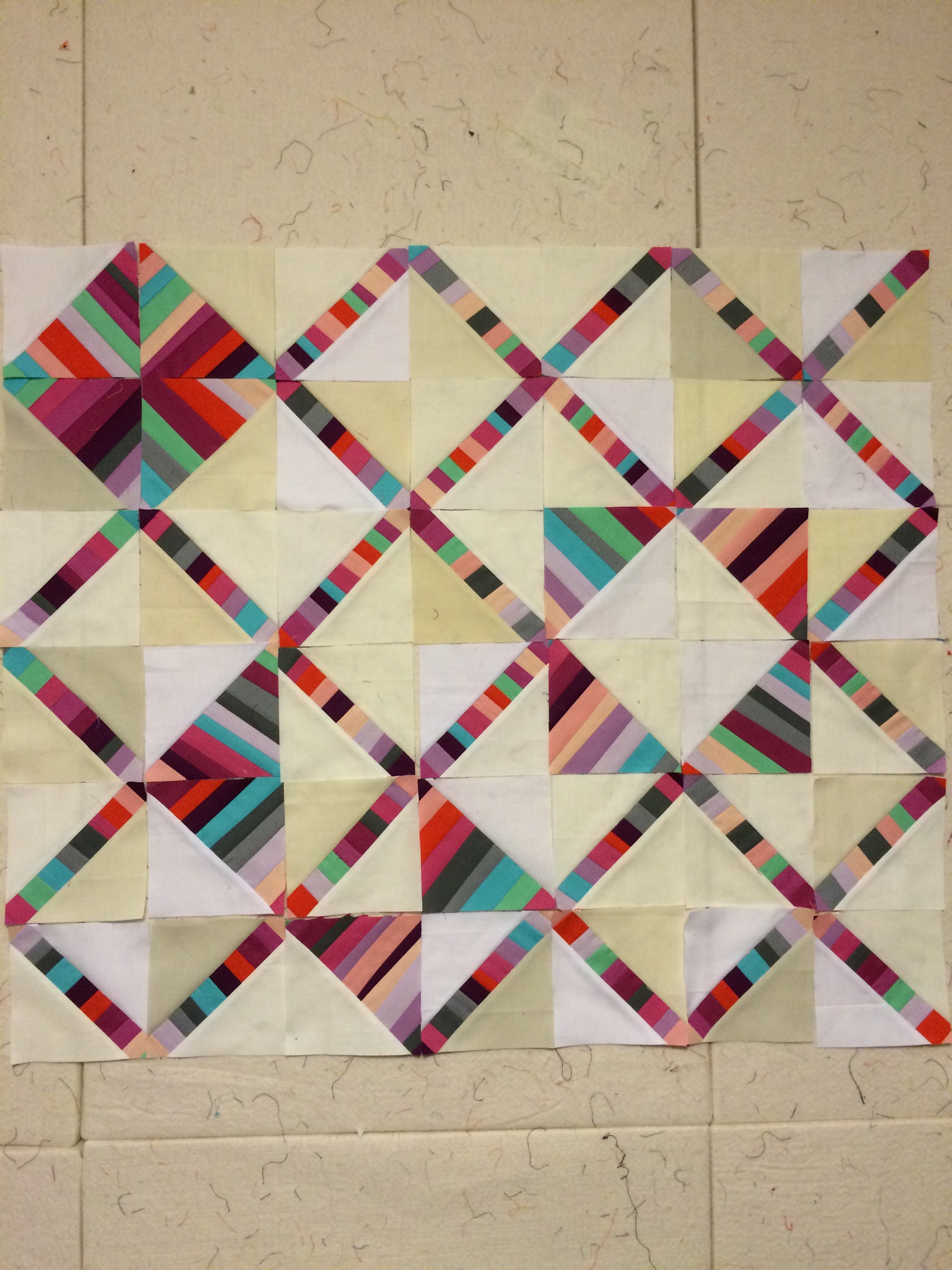 This was cool, but it would have been really small. And not that interesting to look at, other than the color variances.

So then I played with tilting some of the 1-1/2″ stripset pieces into the neutral squares. YES, PLEASE.
And then quilting. I wanted the color to pop, so I quilted everything else with more neutral thread.

  
But obviously the outer corners would need more stabilization. And the interior sections were boring, so I traced them — over the other quilting — with purple thread. Much better. And then purple thread in the colors gave it just enough zing. Ella liked it too.

So did Friday, but he was feeling snobby.
Here it is, oriented properly on the fence outside. I named it "In Need of Repair," since I made it during Exam Week last May, and it's how I feel at the end of a long school year.